Mental Health Awareness week is October 3rd - October 9th with World Mental Health Day on October 10th. HealthCheck360 has created some free resources for you to share with your employees, supporting them now when they need it most.
---
Mental Health Awareness Week and World Mental Health Day is a time dedicated to supporting brain health and mental wellbeing.
Download these 4 FREE posters to educate your employees on the importance of brain & mental health and provide them with resources for support.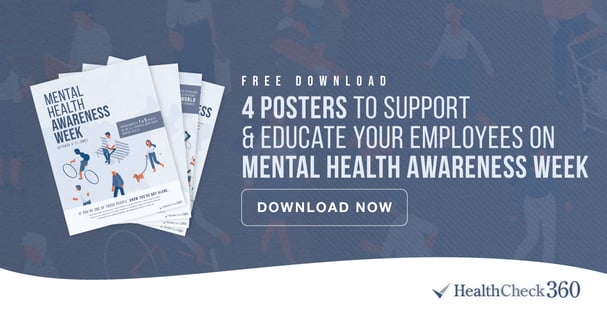 You can also check out this post for 5 Ways to Prioritize Your Mental Health.
If your company is looking to take a more dedicated, strategic approach to helping employees manage their stress and build resiliency, check out this webinar with our new partner meQuilibrium. During the webinar, we talk through: how to support a resilient and adaptable workforce and why it matters for your company's overall performance, the meQ user experience and how they harness the power of Artificial Intelligence with a live demo of the platform, and the importance of building resilience, the impact on your workforce, and your business.