Giving wearable fitness trackers to employees helped Ochsner Health System improve participation in its well-being program. HealthCheck360°'s very own Trent Tangen and HERO's Jessica Grossmeier wrote about Ochsner's success and offer promising practices for wearables in a new article for Becker's Hospital Review. Read on to see how you can step up your wearables game.
Employers like Ochsner Health Systems remove financial barriers to getting healthy by giving wearable fitness trackers to employees. This Becker's Hospital Review article offers more on Ochsner's program and a HERO report Trent worked on to identify promising practices for wearables.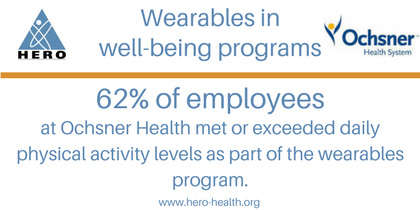 Is your company's wellness program following wearable best-practices? Read the artile now to find out!