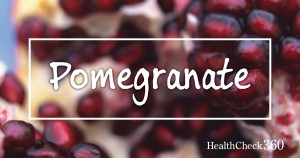 The word "Pomegranate" actually means "apple with many seeds". They do not contain cholesterol or saturated fats, which makes them a super healthy snack! Did you know that pomegranate trees can live for over 200 years? Crazy!
If you are looking to store your pomegranate, they can be kept in room temperature. For the longest results, you can place them in the refrigerator for up to two months! We often find people struggling with how to eat a pomegranate. Follow the instructions below for best results:
Cut off the crown end of the pomegranate
Light score the rind in several pieces
Hold fruit under a bowl of water and break sections apart, separate seeds from membrane. Seeds will sink while rind and membrane float
Remove rind and pith from water and discard
Pour seeds into a colander, drain and pat dry
Enjoy raw, on a salad, or in a smoothie.
Looks for more colorful Fresh Finds on our blog from May 13 - June 3!