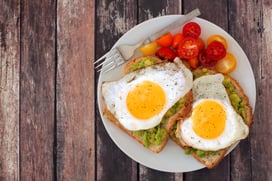 Protein-packed breakfasts that are also portable can be tricky to come by. That's why we love this quick and easy option for busy mornings. If hard-boiled eggs aren't your thing, try scrambled, sunny-side up, or over-easy eggs. Add some fresh fruits or veggies to round out this winning morning meal.
Avocado & Egg Toast
Ingredients:
1 piece whole-grain bread
1/2 ripe avocado
1 hard-boiled egg, sliced
pinch of salt
pinch of ground black pepper
Directions:
Toast the bread
While bread is toasting, mash avocado with salt
Spread toasted bread with the mashed avocado
Place the egg slices on top
Sprinkle with pepper
Enjoy!
Source: http://www.heatherdisarro.com