Want a little extra flavor instead of just plain 'ol water? Try this fruit infused water for a refreshing drink! Swap the grapefruit for oranges, limes, or your favorite fruits.
Citrus Bliss Water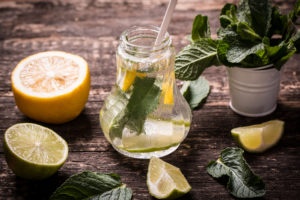 Ingredients:
1 Pitcher of water (about 64 ounces)
1 Grapefruit, sliced
2 Lemons, sliced
2 Cucumbers, sliced
1 Handful of Fresh Mint
Directions:
Slice all fruit and cucumbers and place inside of the pitcher, then add water. Mash the fruit and mint with a spoon or muddler to release the flavor. Put in the refrigerator.
Add more water or fruit if needed after the first day to use it again.
Adapted from: www.mydiaryofus.com