A healthy twist on a classic favorite! Try these deviled eggs made with Greek Yogurt instead of the mayo!
Greek Yogurt Deviled Eggs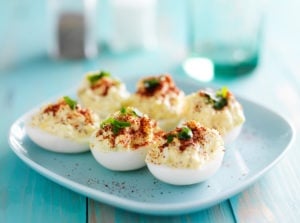 Ingredients:
12 hard-boiled large eggs, peeled
2 Tbsp finely chopped spring onion
1/2 cup plus 2 Tbsp plain Greek Yogurt
3/4 Tsp kosher salt
1 Tbsp Dijon mustard
1 Tbsp chopped chives
Cayenne pepper to garnish
Paprika to garnish
Food Processor
Directions:
Cut eggs in half lengthwise and scoop out yolks into food processor. Add yogurt and salt to food processor and mix until smooth, scraping sides as needed.
Transfer yolk mixture to a medium bowl and mix mustard, 1 Tbsp chives, and 2 Tbsp onion to blend.
Set egg whites on a platter with hollow side up. Spoon yolk mixture into the hollows and sprinkle with more chives, onion, cayenne, or paprika to taste.
Adapted from: www.myrecipes.com