Exercise doesn't only benefit your body, it helps your brain too. Studies have shown a strong link between the health of the body and the health of the brain. Exercise revs up complex processes inside the brain that can deter depression, help you stay calm, and keep your mind sharp.
Also in this month's newsletter: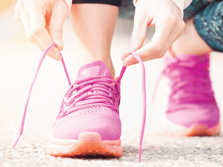 Do you know the signs of a kidney stone?
Save lives: don't be a distracted driver
Apple sage wild rice stuffing recipe
Get your copy of the April Live Well Work Well Newsletter now.
View the Spanish Version of the April Newsletter here.