Want to enjoy a delicious smoothie without spending major time in the kitchen? These smoothie packs are perfect for a quick and nutritious snack or breakfast. Throw together this Berry Bliss Smoothie and you'll get a huge hit of antioxidants!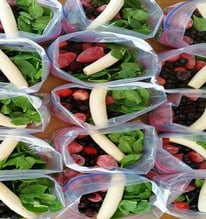 What you need:
1/3 cup raspberries

1/2 cup strawberries

1/4 cup blueberries

1/2 cup packed spinach

1 banana

1 teaspoon chia seeds

3/4 cup of milk (your choice of almond, coconut, regular, etc.)
What to do:
Combine all ingredients in a blender
Add milk
Blend to desired consistency
Enjoy!
Or, make ahead and freeze for later. Add all the ingredients EXCEPT the milk to a ziplock bag. Be sure to remove all the air and place in freezer until ready to use. Then, add the milk when you are ready to make the smoothie.
Source: joyfulhealthyeats.com