Cooking chili can be a great way to prep multiple meals for the week. Prep your chili in the morning and your crock pot will do the rest. You'll thank yourself after a long workday!
What you need: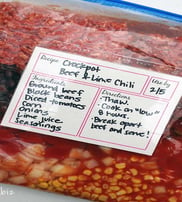 2 lbs of ground beef or turkey
Black beans
diced tomatoes
corn
onions
lime juice
your choice of seasoning
What to do:
Brown your ground beef or turkey
Add to crock pot and throw in your black beans, diced tomatoes, corn, onions, lime juice and seasoning.
Cook on low for 6-8 hours.
Enjoy your chili right away or freeze for later. If freezing your chili, let it cool completely and store in a freezer safe container or bag.