Grab some garlic and Parmesan cheese to add some delicious flavor to your cauliflower. This makes a great side dish and only takes about 10 minutes to prepare!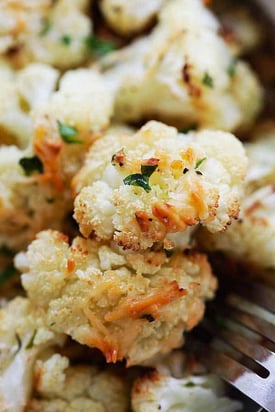 What you need:
20 oz. cauliflower florets
3 cloves garlic, minced
3 tablespoons melted unsalted butter

1/2 teaspoon salt

3 dashes black pepper
1/2 cup shredded Parmesan cheese
1 teaspoon chopped parsley
What to do:
Preheat oven to 400°.
Toss cauliflower florets with garlic and melted butter.
Season with salt and pepper, then add Parmesan cheese.
Stir to combine.
Transfer cauliflower to a baking sheet and roast until tender, about 30 minutes. The cheese should become crusty and the cauliflower tender. Once you remove from the oven, top with chopped parsley. Serve immediately and enjoy!
Source: https://rasamalaysia.com