Who doesn't love tacos?! This grilled eggplant version adds a huge nutritional boost while keeping the tacos fun and delicious.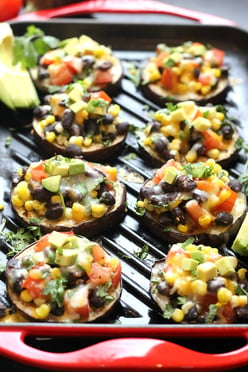 What you need:
1 large eggplant
1/2 cup corn (fresh, canned or frozen)
1 large tomato, seeded and cut into cubes
1/2 cup black beans
1 cup cheddar and Monterey Jack cheese, shredded
1 tablespoon olive oil
salt and pepper to taste
handful of fresh cilantro
What to do:
Preheat oven to 375°.
Slice eggplant to 1/2 inch thick. Brush both sides with olive oil and cook on

a stove top cast iron pan

for about 3 minutes per side.
Meanwhile, add corn, tomatoes, beans, cilantro in small glass bowl. Mix to combine and season with salt and pepper.
Remove cast iron pan from stove top and spoon some corn and bean mixture onto each eggplant slice. Top with shredded cheese and bake for 5-7 minutes.
Garnish with fresh cilantro. Serve with avocado and lime.
Save this recipe for your next Taco Tuesday!
Source: https://gardeninthekitchen.com