Refresh on a hot day or after a workout with this lemon-lime mint infused water.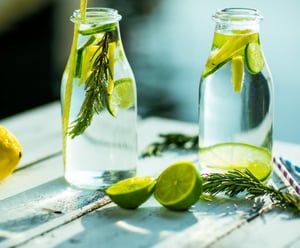 LEMON-LIME MINT INFUSED WATER
Ingredients
1 gallon water
2 lemons, juiced
1 lime, juiced
2 springs mint
1/3 cup honey
optional additions: sliced lemon, lime, and mint leaves for garnish
Instructions
Mix lemon juice, lime juice, and water in a large pitcher.
Add the mint and honey. Stir until well combined.
Serve with sliced lemon, limes, and mint leaves.
Source: http://www.livingchirpy.com/2015/lemon-lime-and-mint-water/