Start your day right with this delicious overnight oats recipe! They are super easy to make and are packed with delicious flavor, nutrients and fiber. Plus they take no time to prepare and breakfast is ready for you to just grab and go the next day!
Overnight Oatmeal with Berries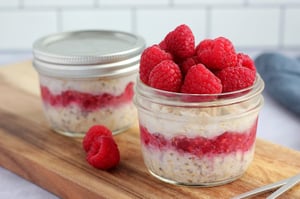 Ingredients:
1/2 cup low-fat milk
1/4 cup fat-free Greek yogurt
2 tsp. honey
1/4 tsp. cinnamon
1/4 tsp. vanilla extract
1/2 cup rolled oats (uncooked)
1/4 cup frozen raspberries (or your favorite fruit!)
Directions:
Combine milk, Greek yogurt, sugar, cinnamon, and vanilla extract in a container or jar with a lid.
Add oats and mix well.
Gently fold in raspberries
Cover and refrigerate for eight hours or overnight.
Enjoy cold or heat as desired.
Try out this recipe and let us know what you think!