Wanting to switch up your dinner plans? Try this delicious Pumpkin Ricotta Stuffed Shells recipe this week! This fall spin on a classic comfort dish is sure to please everyone in your family.
Pumpkin Ricotta Stuffed Shells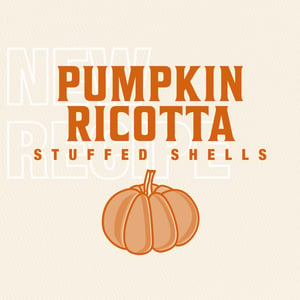 Ingredients:
12 jumbo pasta shells
1 ¼ cups part-skim ricotta cheese
¾ cup pumpkin puree
½ tsp. garlic powder
2 Tbsp. fresh basil (chopped)
¼ tsp. dried sage
½ tsp. salt
½ tsp. black pepper
½ cup grated Parmesan cheese, divided
1 cup low-sodium spaghetti sauce
Directions:
Preheat the oven to 350 F.
Cook the pasta shells according to package directions. Drain and place the shells on a baking sheet to cool.
In a bowl, stir together the ricotta cheese, pumpkin puree, spices and all but 1 Tbsp. of the Parmesan cheese.
Spread the spaghetti sauce in the bottom of a baking dish that can hold all the pasta shells in a single layer.
Fill each pasta shell with about 3 Tbsp. of the pumpkin mixture and place the shells close together within the sauced baking dish.
Cover the baking dish with foil and bake for 30 minutes.
Remove the foil from the baking dish, sprinkle the pasta shells with the remaining Parmesan cheese and bake for 15 more minutes. Serve and enjoy.
Nutritional Information (per serving)
Total calories: 103
Total fat: 4 g
Protein: 6 g
Sodium: 211 mg
Carbohydrate: 12 g
Dietary fiber: 1 g
Saturated fat: 2 g
Total sugars: 2 g
Try out this recipe and let us know what you think!