This classic dish is full of flavor and packed with lots of fiber and protein to help keep you fuller longer. Try it out today and let us know what you think!
Red Beans and Rice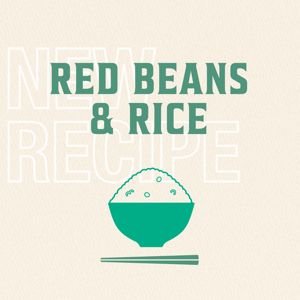 Ingredients:
2 cups red beans (dry)

8 cups water

1 1/2 cups onion (chopped)

1 cup celery (chopped)

4 bay leaves

3 tbsp. garlic (chopped)

1 tbsp. parsley

2 tsp. dried thyme (crushed)

1 tsp. salt

1 tsp. black pepper

1 cup red bell pepper (chopped)

Hot cooked rice
Directions:
Rinse beans thoroughly.

In a 5-quart pot, mix the beans, water, onion, celery and bay leaves. Bring to a boil and reduce heat.

Cover and cook over low heat for about 1 ½ hours or until the beans are tender. Stir and mash the beans against the side of the pan.

Add garlic, parsley, thyme, salt, black pepper and green peppers.

Cook uncovered over low heat until creamy, about 30 minutes.

Remove the bay leaves. Serve over hot cooked rice.




Nutritional Information (per serving)
Total calories 168
Total fat 1 g
Protein 11 g
Sodium 315 mg
Carbohydrate 31 g
Dietary fiber 9 g
Saturated fat 0 g
Total sugars 2 g
*Source: MyPlate
Try out this recipe and let us know what you think!