Roasting your favorite veggies is a great way to create a nutritious side dish. Season well, add Parmesan cheese for flavor, and your family is sure to dig in!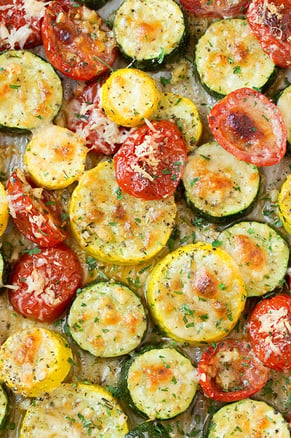 What you need:
2 small zucchini, cut into 1/2 inch slices
2 small yellow squash, cut into 1/2 inch slices
14 oz Flavorino or small Campari tomatoes, sliced into halves
3 tablespoons olive oil
4 cloves garlic, minced
1 1/4 teaspoon Italian seasoning
1 cup shredded Parmesan cheese
What to do:
Preheat oven to 400°.
Line an 18x13 inch rimmed baking sheet with parchment paper or aluminum foil.
In a small bowl, whisk together olive oil, garlic and Italian seasoning. Place zucchini, squash and tomatoes in large bowl. Pour olive oil mixture over top and toss with hands to evenly coat.
Pour onto baking dish and spread into an even layer. Season with salt and pepper, and sprinkle with Parmesan. Roast for 25-30 minutes.
Optional: Garnish with parsley.
Feel free to add or remove veggies and seasonings to create a combination that's just right for you and your family.
Enjoy!
Source: https://www.cookingclassy.com