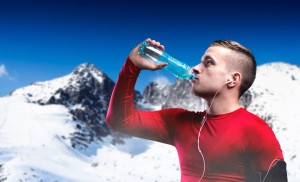 It's easy to forget about the importance of staying hydrated during the winter months. We usually think of drinking a refreshing glass of cold water on a hot, sunny day, but don't always do that on a cold day. The truth is, our bodies need the same amount of water at all times throughout the year. Your body has to work harder in the colder months to keep you warm. The harder your body works, the more you need to drink. Follow the easy tips below to stay hydrated this winter season:
Keep water on hand at all times. Simply keeping water within reach by carrying a water bottle will help you drink more. Try warmer liquids such as tea or hot chocolate to up your consumption.
Drink enough water based on your activity level. Be mindful of how long you are exercising, and if you need to hydrate with more than just water. Not sure how much to drink? Weigh yourself before and after your workout. For every pound lost, it is recommended to drink 20 ounces of water
Dress appropriately. It's tough to know what to wear during the winter months because you want to keep your body warm, but don't want to sweat excessively and loose water from your body that way. Wear layers so you can adjust if you are sweating too much.
Sources: www.cnn.com, www.active.com, www.shape.com