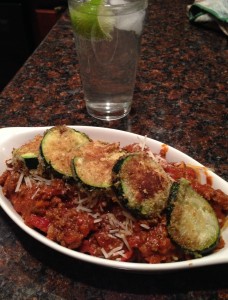 Check out Coach Jake's recipe for Spaghetti Squash with zucchini chips. Bonus points for using organic foods and grass-fed beef!
Spaghetti Squash with Marinara Sauce and Zucchini Chips

1 spaghetti squash
1 lb of lean ground beef or 1 lb of ground, grass fed beef
1 can of organic spaghetti sauce (tomato basil)
5 cloves of garlic, chopped
Cook spaghetti squash separate in oven or microwave and keep separate. Check out this site for cooking options and instructions for the spaghetti squash: http://lowcarbdiets.about.com/od/cooking/a/spagsquash.htm
Cook ground beef and garlic at medium-medium high heat until beef is brown (don't overcook) add seasoning to taste (salt, pepper, Italian seasoning, seasoning salt, etc).
Reduce heat to medium low and add sauce until sauce is hot.
Put spaghetti squash "noodles" in bowl and add sauce.
Zucchini Chips

1 Zucchini
1 cup almond flour
2 tsp seasoning salt
Approx. 1 cup milk
Take zucchini and cut into approximately 1/8 – ¼ inch pieces.
Add almond flour and seasoning salt to one bowl and milk in another.
Take zucchini slices and dip into milk and then dip in almond flour mixture until both sides of zucchini are coated. Place the chips on a pan and let cook in the oven at 425 for 10-15 min and turn over and cook other side for another 10-15; keep an eye on them and make sure they're not burning. Let cool before eating and ENJOY!