We love resistance bands because they travel so well! You can get a full body workout in anywhere with minimal equipment. This exercise is to work those chest, arm, and shoulder muscles.
Resistance Band Chest Press
Step 1: Start with one foot forward a couple of feet, keeping your forward leg bent and your back leg straight.
Step 2: Secure the band around your back foot and be sure that it is securely anchored during the entire exercise.
Step 3: Allow the band to rest on the outside of your arms.
Step 4: Raise your hands so that they are next to your shoulders. This is your starting position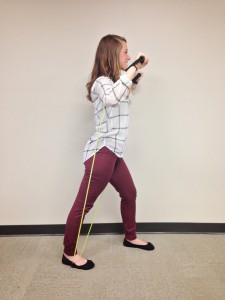 Step 5: Keep your back straight and look straight ahead.
Step 6: While tightening your chest, arm, and abdominal muscles, slowly push your hands forward and slightly up until your arms are straight but not locked at a 45 degree angle.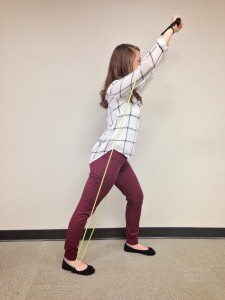 Step 7: Pause for a moment and slowly return to the start position.
Step 8: Repeat in sets of 10.