It's March and HealthCheck360° has caught basketball fever. Check out these awesome March Madness themed exercises!
Russian Twists
Start by laying on the floor, with your knees slightly bent.
Elevate your upper body so that it creates an imaginary V-shape with your thighs.
While holding the basketball, twist your torso to the right side until your arms are parallel with the floor while breathing out.
Hold the contraction for a second, then twist the opposite side.
Wall Sit
Stand with your back against a wall, placing your feet about 2 feet out in front of you. Your feet should be hip-distance apart.
Bending your knees, slide your back down the wall until your knees are at a 90° angle.
Hold the basketball out in front of you to engage your core.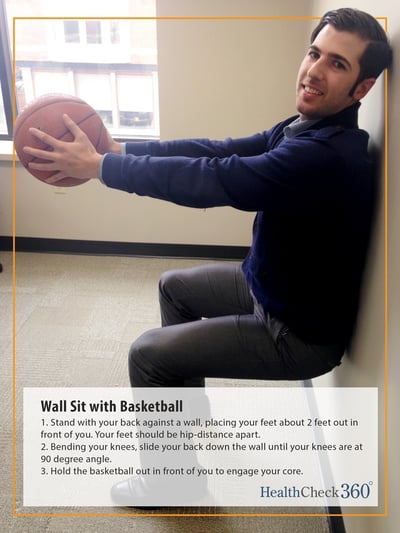 Leg Lifts
Lie face up on the floor. Arms stretched out. Raise both legs toward the ceiling, holding the basketball tightly between your ankles. Breathe in and tighten your abs.
Exhale and slowly lower your legs until they're about 4 inches above the floor (or as low as you can go without lifting the small of your back).
Repeat!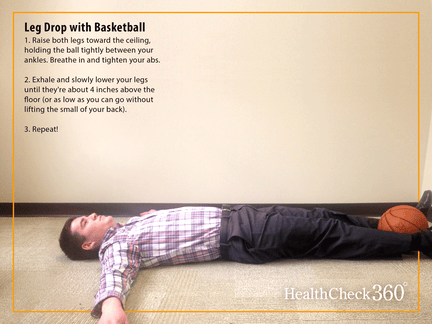 Toe Touches
Lie face up on the floor and straighten your legs toward the ceiling. Align your knees over your hips.
Hold the basketball in both hands and straighten your arms towards the ceiling.
Tighten your stomach, exhale and raise your shoulder blades off the floor as your touch the basketball to your toes.
Hold for 1 second, then inhale and lower your torso to the start position.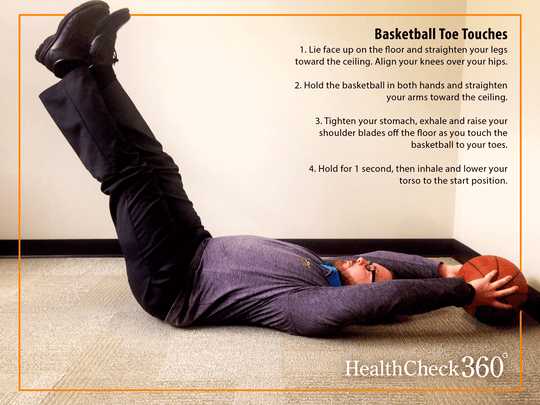 CONTEST
HealthCheck360° is giving away a Fitbit® and you've got a shot at winning! This month, we posted photos of our team doing "March Madness" themed exercises to our Facebook, Twitter, and Instagram pages. Now we want to see yours! Share one of you doing a March Madness exercise (examples shown above) in the comments section on this post and we'll enter you into a drawing for a Fitbit® Charge HR!
To enter the contest, post your photo by March 27 at 11:59p.m.