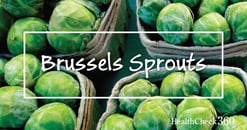 Brussels sprouts are becoming more popular and the health benefits give them a deserving spot on your plate. Resembling miniature cabbages in appearance, they are packed full of protein, fiber, vitamins, minerals and antioxidants. If you're like us, you've probably wondered how to prepare them.
Check out the ideas below to find 3 easy, healthy ways to cook Brussels sprouts for your next side dish, salad or pasta:
Sautéed: One of the quickest ways to prepare Brussels sprouts, sautéing means cooking the food stove-top with a bit of oil like olive oil and some seasonings like garlic, pepper, and salt. 10 to 12 minutes over medium-high heat should get the job done.
Roasted: Done in the oven, this is a great hands-off way to get your sprouts ready without the attention required. Set the oven to 400° and put prepared, halved Brussels sprouts on an ungreased baking sheet with some olive oil, garlic, and salt and pepper. Roast for 15 to 17 minutes.
Steamed: Cook those sprouts without added calories. Add sprouts to a basket steamer over a pot of boiling water and cover. Cook for 6 to 8 minutes or until tender. Toss with lemon juice for some flavoring.
Source: http://www.oceanmist.com/cook-brussels-sprouts/
Looks for more colorful Fresh Finds on our blog from May 13 - June 3!