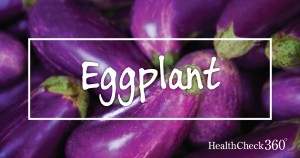 Did you know that Eggplants aren't really a vegetable, they're a berry? They are a great source of dietary fiber, vitamin B and copper! If your eggplant isn't eaten within 2 days, be sure to place it in the refrigerator. For longer results, wrap the eggplant in a paper towel and place it in a reusable container in your fridge.
There are beauty benefits that go along with eating an eggplant! They have almost every nutrient, which helps you keep your skin, hair & nails healthy. If you are looking for a great eggplant recipe, check out the recipe below.
Roasted Eggplant Dip
Ingredients:
2 medium eggplants (about 2 pounds or 900 grams)
1/4 cup (60 ml) tahini, see our homemade tahini recipe
1/4 cup (60 ml) lemon juice
2 to 3 garlic cloves, finely minced (see note)
1/4 teaspoon ground cumin
1/2 teaspoon kosher salt
2 tablespoons chopped fresh parsley leaves
1 tablespoon olive oil, optional
Directions:
Adjust oven rack to the middle position and turn broiler on (high heat). Line a baking sheet with aluminum foil.
Place eggplants onto the baking sheet and prick in several places using a fork. This helps steam escape while the eggplants roast.
Broil eggplants 2 minutes on all sides. The skin will darken a little and begin to smell smoky, adding lots of flavor to the dip.
Turn broiler off, but do not remove eggplants from the oven. Heat oven to 375 degrees F (190 C). Roast eggplants 25 to 30 minutes, or until very soft. Cool 10 to 15 minutes until easily handled.
Meanwhile, combine tahini, lemon juice, garlic, cumin and the salt in a medium bowl. Set aside so the flavors meld.
Mash eggplant into tahini mixture with a fork until somewhat smooth with some texture remaining. Cool to room temperature then stir in parsley and drizzle the top with olive oil.
Serve with fresh cut veggies like carrots or pita chips.
Source: http://www.inspiredtaste.net/24825/baba-ganoush-recipe-roasted-eggplant-dip/
Looks for more colorful Fresh Finds on our blog from May 13 - June 3!