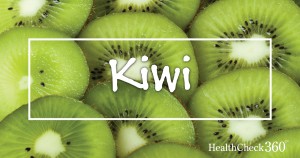 Kiwifruit- or kiwi for short- is known for its bright green color, fuzzy skin and exotic taste.
This little fruit is also host to numerous nutrition benefits.
Vitamin C, vitamin E and potassium are just some of the vitamins kiwi contains. In fact, the high potassium content counteracts the effects of sodium in our body and helps manage blood pressure.
Kiwi is also a great source of fiber and aids in food digestion and flushing out toxins. Fun fact: eat the skin of the kiwi to get triple of the fiber intake compared to eating the flesh
Kiwi is usually ready to eat when you buy it and should feel slightly soft to the touch. If it feels firm, it will usually ripen in three to five days when kept at room temperature. The firmer the fruit, the more tart it will taste.
Kiwifruits are delicious are on their own but are also great additions to Greek yogurt, fresh salads and smoothies or infused in water.
Curious how to peel a kiwi? Check out this video to learn how to peel kiwi with a spoon!
Looks for more colorful Fresh Finds on our blog from May 13 - June 3!