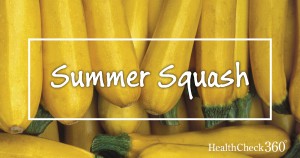 The most typical forms of summer squash are zucchini, yellow squash, and patty-pan squash. All equally great for your health and super delicious! Summer squash is a great source of Vitamins A and C, magnesium, fiber, and potassium. It's also rich in beta carotene and lutein, which are both essential for healthy eyesight.
Another reason summer squash is great for your health is the very low calorie count. One cup of summer squash contains just 20 calories. So let's start planning ways to use this vegetable during the upcoming summer months!
Here are some fun ways to incorporate squash into your meals:
Add squash for a new spin on your favorite casseroles
Sliced or grated squash can be a delicious way to mix up your salad
Add yellow squash and zucchini to your vegetable tray
Squash can be an easy and healthy addition to stir fry
Squash is also great for the summer grilling season! Try the recipe below for your next barbeque.
Pan Grilled Summer Squash recipe
Ingredients
1 1/2 tsp olive oil
2 medium yellow squash, cut in 1 inch diagonal slices
1 clove garlic, minced
1/4 tsp salt
1 pinch black pepper
1 Tbsp chopped onions
1 tsp fresh basil, chopped
2 medium zucchini, cut in 1 inch diagonal slices
Instructions
In a 12" non-stick skillet over medium-heat, warm the oil until hot. Add the squash, zucchini, onions and garlic. Cook, stirring frequently, for 6 to 8 minutes, or until the slices are nicely browned. Stir in the salt and pepper.
When selecting your summer squash, make sure it's firm, especially at the stems. Bright colored skin is also important as is the length. Yellow squash and zucchini more than eight inches long means it likely to be more bitter in taste.
Store yellow squash and zucchini in a plastic bag in the vegetable drawer of your refrigerator. Unwashed is best until you're ready to use it.
Recipe source: FullCircle.com
Looks for more colorful Fresh Finds on our blog from May 13 - June 3!