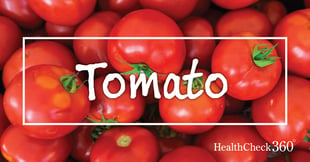 Although tomatoes are technically a fruit, they are most generally used as vegetables because of their savory flavor. Fresh tomatoes and tomato extract have also been known to help keep cholesterol and triglyceride numbers down.
Tomatoes should be well-shaped and smooth-skinned with no wrinkles, cracks, bruises, or soft spots. Ripe tomatoes will give way to slight pressure. Tomatoes of all colors have outstanding nutritional benefits. Look for rich colors, but steer clear of "puffy" tomatoes. The smell should be noticeable sweet. Tomatoes keep best unwashed at room temperature and out of direct sunlight, so skip the refrigerator for best flavor and freshness.
Tomatoes are used in many ways, including: raw in salads, in salsa, fresh in pico de gallo, or processed into ketchup, soup, or sauces. Tomatoes are and acidic food which makes them especially easy to preserve at home. Canning whole or in pieces, as sauce or paste are all great ways to preserve these healthy fruits.
There's plenty of ways to use tomatoes, but we're partial to this recipe: Pesto-Parmesan Baked Tomatoes
Looks for more colorful Fresh Finds on our blog from May 13 - June 3!