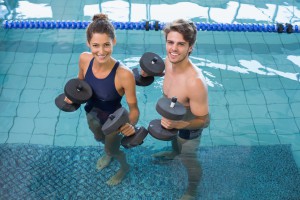 Swimming is a great total-body work out that combines cardio and strength training. You don't have to be an Olympian to enjoy the benefits of swimming; it's a great way to improve your physical and mental health regardless of your age or fitness level.
Getting started is easy. If you don't know how to swim, community aquatic centers offer swimming lessons for people of all ages. Once you feel comfortable in the water, you will be able to use swimming as a way to stay healthy and make friends.
Let's dive into the benefits of swimming!
Decreases triglycerides
Improves HDL, the good cholesterol
Decreases blood pressure
Decreases total cholesterol
Tones muscles and builds strength in your core, arms, legs, glutes, shoulders and back
Improves coordination, balance, posture and flexibility
Buoyancy causes low-impact on joints and helps rehabilitate muscles
Alleviates stress and tension
Swimming is an exercise you can do solo or in a group. Water aerobics focuses on full-body exercises conducted in waist-deep or deeper water, designed to provide cardiovascular benefits. Click here to learn how to burn calories next time you're in a pool by yourself or with friends.
If you prefer a traditional lap swim, the most popular swimming stroke is the front crawl, also known as freestyle. As with all exercises, technique is very important. Watch this short clip to learn how to properly swim using the front crawl to ensure you're getting the most out of your work-out.
Source: http://www.bucknell.edu/athletics/recreation-services/swimming-information.html