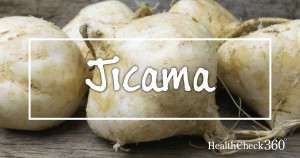 Jicama (pronounced HEE-kah-ma) is an exotic root vegetable. Its taste and texture is sort of like an apple or water chestnut. The origins of jicama are primarily Mexican, but this veggie is also used in Asian foods. Jicama can be eaten raw or cooked. The jicama skin is a papery yellow, while its creamy white inside has a texture similar to a potato.

Jicama has a unique blend of vitamins and minerals that helps your body in many ways. Its potassium can help manage blood pressure, its copper and iron maintain healthy circulation, and its Vitamin B6 increases brain function and cognitive abilities.
When choosing a jicama at the grocery store, make sure to pick the one that has the smoothest skin and no blemishes. In this case, bigger is not always better. As the root of jicama grows, the veggie loses its flavor and its texture becomes a bit tougher. So if you want big taste, chose a little jicama!
To use this exotic veggie, think salad or stir-fry. Or pair it with other fruits or veggies to make a light salsa. Here's one of our favorite recipes:
Jicama Mango Salsa
Ingredients:
2 cups small-dice jicama
2 cups small-dice mango
½ cup finely chopped white onion
3 tablespoons finely chopped fresh cilantro leaves
3 tablespoons freshly squeezed lime juice
2 serrano chiles, stemmed and finely chopped (remove seeds for less heat)
Kosher salt
Instructions:
Place all of the measured ingredients in a medium bowl, season with salt, and stir to combine. Cover and refrigerate until ready to serve.
Source: http://www.chowhound.com/recipes/jicama-mango-salsa-30715
Looks for more colorful Fresh Finds on our blog from May 13 - June 3!