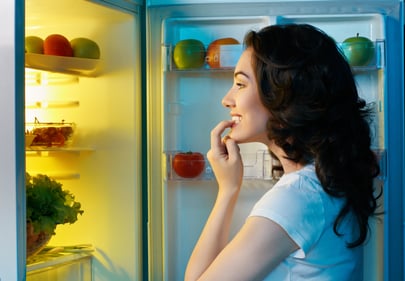 We all know how frustrating a long night of tossing and turning can be. Filling your body will the right foods can do wonders for your shut eye! Check out these seven sleep promoting healthy foods.
Bananas: Bananas contain tryptophan which turns into melatonin - the hormone that produces sleepiness. Try having a banana for your evening snack.
Tuna: Tuna or fish such as salmon contain high amounts of vitamin B6 which helps produce the sleepy hormone melatonin. Try incorporating more fish into your dinners for better sleep.
Cherries: Cherries provide a natural source of melatonin so have a handful an hour before bedtime.
Lettuce: Lettuce has lactucarium, which contains sedative like properties to help you feel sleepy. A healthy evening salad is a great choice to help you sleep better tonight.
Almonds: Almonds provide a dose of magnesium, which promotes sleep and muscles relaxation. Grab a handful for an evening snack.
Oatmeal: Oatmeal provides calcium, magnesium, phosphorus, and potassium – all sleep promoting nutrients. Try a small bowl of oatmeal in the evening.
Eggs: Eggs are a good source of tryptophan which will provide melatonin to promote sleep. Try snacking on a hard-boiled egg in the evening to help catch those Zzz's!
Sources:
http://healthysleep.med.harvard.edu
https://sleepfoundation.org