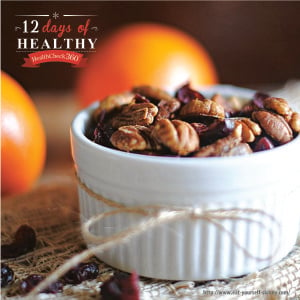 Add some extra flavor to your holiday snacks with this tasty Pecan Mix recipe!
Ingredients:
1 Tbsp grated orange rind
1 Tbsp fresh orange juice
1 large egg white
1 Tbsp dark brown sugar
1 Tsp salt
1/2 tsp ground chipotle chili pepper
Cooking spray
1/2 cup dried cranberries
Instructions:
Preheat oven to 225°. While the oven is heating, whisk together orange zest, orange juice, and large egg white in a medium size bowl. Stir in pecans, coating well. In a separate bowl, combine sugar, salt, and chili pepper, then add to pecan mixture and toss well.
Spread mixture in a single layer on a baking pan coated with cooking spray. Bake at 225° for one hour, stirring occasionally.
Remove from oven and cool completely. Stir in cranberries and enjoy!
Source: www.eat-yourself-skinny.com