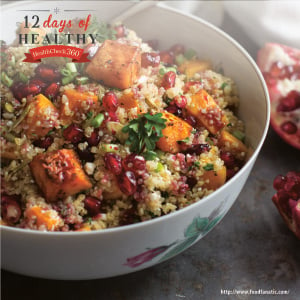 This Butternut Squash and Quinoa Salad recipe combines all the delicious flavors of seasonal ingredients!
Ingredients:
1 small butternut squash cut into 1/2 inch cubes (about 3 cups)
4 tablespoons olive oil
1 cup quinoa
2 cups chicken stock, or vegetable stock
1/2 cup dried cranberries
1/3 cup chopped parsley
1/3 cup thinly sliced scallions
1/2 cup roasted pumpkin seeds
1/2 cup feta cheese
1/2 cup pomegranate seeds
salt and pepper
Directions
Preheat oven to 375° and line a baking sheet with parchment paper
In a medium size bowl, toss butternut squash with two tablespoons of olive oil and a generous pinch of salt and pepper. Place on the baking sheet and roast for 25-30 minutes, stirring occasionally.
Heat the remaining olive oil in a saucepan over medium heat. Add the quinoa to the pan and toast for 3-4 minutes, stirring often. Stir in the 2 cups of chicken or vegetable stock and a generous pinch of salt. Bring the mixture to a boil. Turn down the heat to low and cover the pan, then cook for 15-20 minutes, or until the quinoa has absorbed all of the liquid. Take the pan off the heat and allow the quinoa to rest for 5 minutes covered. Fluff with a fork.
Transfer the quinoa to a large serving bowl. Gently fold in butternut squash, cranberries, parsley, scallions, pumpkin seeds, feta cheese, and pomegranate seeds. Season with salt and pepper to taste. Enjoy!
Source: www.foodfanatic.com