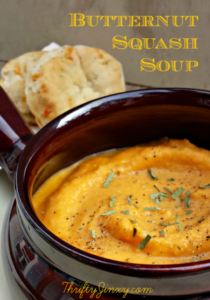 This easy butternut squash soup recipe is a great way to get in a serving of vegetables!
Ingredients:
1/2 Onion, chopped
4 tablespoons olive oil
6 cups butternut squash, peeled and cubed (about 1 medium size squash)
3 cups low sodium chicken stock
1/2 cup half and half
1 teaspoon tried tarragon
Salt and Pepper
Directions:
Saute onions in olive oil until they are tender and translucent
Add the squash, chicken stock, and salt and pepper to taste and bring to a boil. Reduce the heat and simmer for 20 minutes until the squash is tender
Next, use a food processor or blender to puree the mixture. Stir in the half and half and season with tarragon. Add more salt and pepper as needed.
Source: www.thrifyjinxy.com