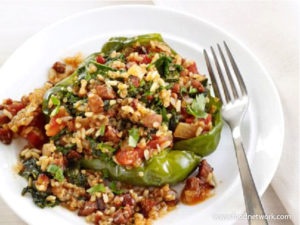 Try these easy Cajun Stuffed Peppers for a quick and healthy meal!
Ingredients:
1 cup long-grain brown rice
1/3 cup quinoa
2 large green bell peppers, halved lengthwise and seeded
1 tablespoon extra virgin olive oil
1 medium onion, chopped
1/2 pound turkey sausage, finely chopped
3 cloves garlic, minced
1/2 teaspoon dried thyme
1 14 ounce can diced tomatoes
1 small bunch of kale, leaved shopped
salt
Chopped fresh parsley, for topping
Directions:
Preheat oven to 375°. Cut bell peppers in half and drizzle with olive oil. Bake for 20 minutes.
Meanwhile, bring a medium saucepan of water to a boil, add the brown rice and boil 10 minutes. Stir in quinoa and cook until both grains are tender, about 15 more minutes. Drain well and set aside.
In a wide saucepan, heat olive oil over medium heat, and then add onion. Stir until golden, about 5 minutes. Add the sausage, garlic, thyme, and 1/2 teaspoon of salt and cook. Stir until the sausage is brown and crisp, about 3 more minutes.
Add the tomatoes and 1 cup water to the pan. Pile the kale on top, and cover and cook until kale wilts, about 2 minutes. Stir the kale into the sauce and bring to a simmer.
Divide the mixture into the bell peppers and season with salt. Put back in over for 5 minutes for all ingredients to cook together. Top with parsley to serve.
Source: www.foodnetwork.com