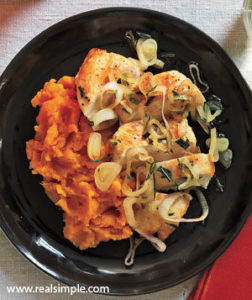 Here's a tasty recipe from Real Simple Magazine to incorporate sweet potatoes while they are in season!
Ingredients:
1 1/2 pounds sweet potatoes, peeled and cut into 2 inch pieces
4 boneless, skinless chicken breasts
4 tablespoons of olive oil
4 shallots, sliced into thin rings
2 tablespoons chopped fresh Rosemary
Salt and Pepper
Directions:
Place sweet potatoes in a large. Add water to cover and bring to a boil.
Add 1 teaspoon of salt, reduce heat and simmer until tender, about 14-16 mintutes. Save 1/4 cup of the cooking water, then drain the sweet potatoes and return them to the pot. Mash with the 1/4 cup cooking water.
Meanwhile, heat 1 tablespoon of the oil in a large skillet over medium heat. Season chicken with 1/2 teaspoon salt and 1/4 teaspoon pepper.
Cook the chicken until golden brown cooked through, 7 to 8 per side. Transfer to plates
Wipe out the skillet. Heat the remaining 3 tablespoons of oil over medium-high heat. Add the shallots, rosemary, 1/2 teaspoon salt, and 1/4 teaspoon pepper and cook, stirring, until the shallots are tender, 3 to 4 minutes.
Serve the chicken with the potatoes and drizzle with the shallot mixture.
Adapted from: www.realsimple.com