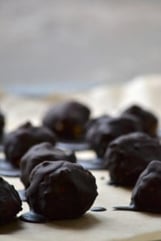 Ingredients:
3/4 cup natural crunchy peanut butter (preferably organic)
1/4 cup honey
1/2 cup coconut flour
Pinch of sea salt
4 oz dark chocolate
1 teaspoon coconut oil
Directions:
In a medium bowl, mix together the peanut butter, honey, and a pinch of sea salt
Add in the coconut flour gradually, until a "dough" forms. You made need to add more depending on the texture of the peanut butter.
Using a cookie scoop, drop the dough by rounded tablespoons onto a pan lined with parchment paper. Place the balls in the freezer to set for 30 minutes.
While the balls are freezing, melt the 4 oz of dark chocolate together with 1 tsp. of coconut oil.
Remove the peanut butter balls from the freezer, and dip each one into the melted chocolate mixture, coating each on thoroughly. Add sprinkles now, if desired. Return the chocolate covered balls to the parchment paper, and set in the freezer for 30 minutes before serving.
Source: www.detoxinista.com