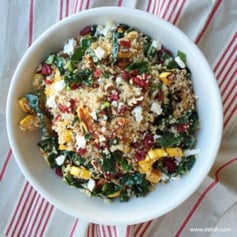 Ingredients:
1 cup quinoa
1 medium Delicata squash (greeen and white in color) seeded and thinly sliced into half moons (2 cups)
1 bunch Kale, thinly sliced with stems removed ( 1 1/2 cups)
1/3 cup toasted pecans
1/3 cup dried cranberries
1 tbsp. balsamic vinegar
2 tbsp. extra-virgin olive oil
1/3 cup feta
Directions:
Preheat over to 425 degrees and cover a baking sheet with aluminum foil
Cook quinoa according to directions on the box, then spread out on another tray to cool completely
Meanwhile, arrange squash on a baking sheet and roast until tender and golden, about 15 minutes. Let cool
In a large bowl, toss together quinoa, squash, kale, pecans, and cranberries. In another small bowl, whisk together balsamic and olive oil. Drizzle over salad and toss gently to combine. Season with salt and pepper and top with feta to serve.
Source: www.delish.com