Ingredients: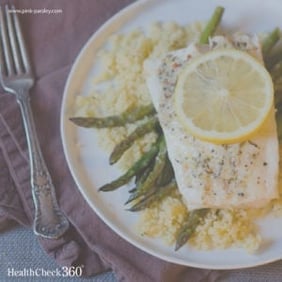 4 (6-8 oz) skinless white fish filets, about 1-inch thick
4 Tbs butter
zest and juice of 1/2 lemon
1/2 tsp dried herbes de provence (it sounds fancy, but can be found in the spice aisle of your grocery store)
2-3 garlic cloves, finely minced
pinch of red pepper flakes
1 lb. asparagus, woody ends snapped off
4 lemon slices, plus more for serving
4 Tbs sherry
Salt and pepper to taste
Directions:
Preheat oven to 450°F. Cut 4 pieces of foil measure about 10x14 inches. Divide the asparagus evenly between the foil and sprinkle lightly with salt and pepper, top with a lemon, and set aside. Pat the fish dry with paper towels, and season with salt and pepper.
Using a fork, combine the butter, lemon zest and juice, herbs, garlic, red pepper flakes, and salt and pepper to taste. Spread 1 tablespoon of the butter on each piece of fish. Carefully transfer each piece of fish to the foil, and pour 1 tablespoon of sherry over each piece. Wrap and seal the packets, and transfer to a baking sheet.
Bake until the fish is just cooked through and the asparagus is crisp-tender, 15-20 minutes. Open very carefully, as steam will burn. Serve with the extra juices from the packet and extra lemon.
Source: www.pink-parsley.com