Ingredients: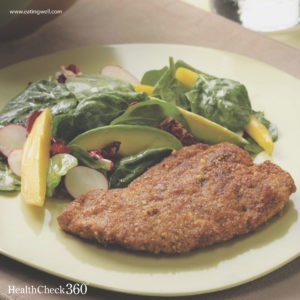 4 Boneless, skinless chicken breasts
1/2 cup pecan halves or pieces
1/4 cup plain dry breadcrumbs
1 1/2 teaspoons freshly grated orange zest
1/2 teaspoon salt
1/4 teaspoon ground chipotle pepper
1 large egg white
2 tablespoons water
1 tablespoon olive oil, divided
Directions:
Flatten each chicken breast to an even 1/4 inch thickness by placing it between sheets of plastic wrap and pounding with a meat mallet or heavy skillet
Use a food processor to mix together the pecans, breadcrumbs, orange zest, salt, and ground chipotle until finely ground. Put the mixture in a shallow dish and set aside. In another shallow dish, whisk together the egg white and water. Dip each chicken breast in the egg-white mixture, then dredge both sides in the pecan mixture.
Heat 1 1/2 teaspoons of olive oil in a large nonstick skillet over medium heat. Cook chicken until browned on the outside and no longer pink in the middle-2 to 4 minutes per side. You may need to divide up the chicken and only cook 2 at a time. Cover to keep warm and serve with your favorite vegetables.
Adapted from: www.eatingwell.com