Fresh from the garden! Here's an easy peasy pesto recipe to try!
Basil Pesto
Ingredients: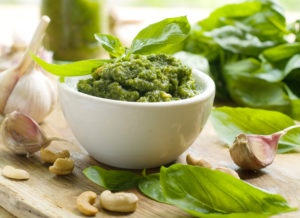 2 cups of fresh basil leaves
1/2 cup Parmesan cheese
1/2 cup extra virgin olive oil
1/3 cup pine nuts (can also sub with walnuts or leave out)
3 garlic cloves
Salt and Pepper to taste
Food Processor
Directions:
Put basil leaves and nuts in the food processor and pulse several times. Add garlic and Parmesan cheese and pulse again. Be sure to scrape down the sides with a rubber spatula.
Add the olive oil and turn the food processor on low. Stir in the salt and pepper to taste. Enjoy!
Adapted from: www.simplyrecipes.com