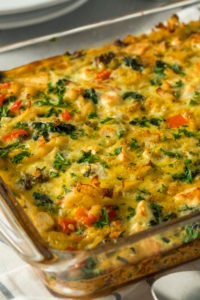 This easy egg bake recipe will make breakfast a breeze! Reheat a square for breakfast each day, or freeze the leftovers for later.
Ingredients:
10 eggs
1/2 cup milk
1/2 bell pepper, chopped
1/2 onion, chopped
3/4 cup broccoli
1 cup shredded cheddar cheese
salt and pepper to taste
cooking spray
Directions:
Whisk eggs and milk together in a medium-size bowl. Once blended together, add bell pepper, onion, and broccoli.
Cover the bottom of a 9x13 inch pan with cooking spray. Pour mixture into the pan, and top with cheddar cheese
Cook at 350° for about 35 minutes or until cheese starts to turn golden.