These flavorful chickpeas will spice up your snack time!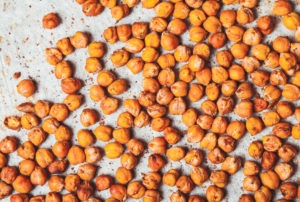 Ingredients:
3/4 Teaspoon cumin seeds
3/4 Teaspoon coriander seeds
1 15 Ounce can chickpeas (garbanzo beans), drained, rinsed, well dried
1 Tablespoon extra-virgin olive oil
Pinch of cayenne pepper
Coarse kosher salt
Directions:
Preheat oven to 400°F. Toast cumin seeds and coriander seeds in small skillet over medium heat until they start to brown for about 2 minutes. Let cool
Transfer the seeds to a spice mill, and process until finely ground.
Place chickpeas, olive oil, pinch of cayenne, and ground spices in medium bowl. Sprinkle with coarse salt, and toss to coat
Transfer to a small rimmed baking sheet and roast in the oven until lightly browned and crunchy. Stir occasionally, about 35 minutes. Enjoy!
Source: www.bonappetit.com