Fix up your filet mignon with a delicious mix of herbs and garlic.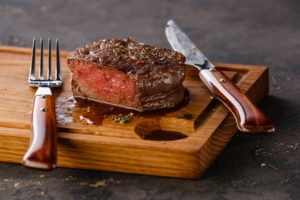 Ingredients:
2 Teaspoons bottled minced garlic
1 1/2 Teaspoons minced fresh basil
1 1/2 Teaspoons minced fresh thyme
1 1/2 teaspoons minced fresh rosemary
1/2 teaspoon salt
1/2 teaspoon pepper
4 (4 ounce) Beef tenderloin steaks, trimmed
Cooking spray
Directions:
Combine first 6 ingredients in a small bowl; rub evenly over steaksHeat a large nonstick skillet over medium-high heat. Coat pan with cooking spray.
Add steaks to the pan, and cook for 4 minutes on each side or until your liking.
Source: www.myrecipes.com