These simple burgers are packed with flavor and only have 4 ingredients!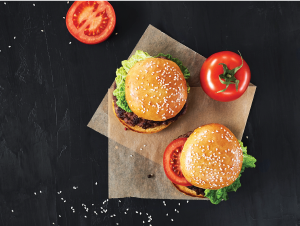 Ingredients:
1 small onion, peeled and diced
1 pound of 90% lean ground beef
1 egg
1 tablespoon olive oil
4 sprouted grain buns
Directions:
Mix the ground beef in a medium bowl with egg and onion
Dived the mixture evenly into 4 and roll each section into a ball. Flatten each ball into a patty. Put on a plate, cover with cling wrap, and put in the refrigerator to firm up for at least 20 minutes
Heat grill to medium-high. Brush 1 side of each burger with olive oil. Place burgers on the grill, oil side down. Cook for 5 minutes until the meat is lightly charred. Oil the other side, and then turn over using tongs. Don't press down or that will squeeze out the juices.
Cook for 5 minutes for medium, 1 minutes less for rare, and 1 more minute for well done.
Take burgers off of the grill and let rest on a plate so the juices can settle. Slice each bun in half and place cut side down on the grill. Toast for 1 minute or until lightly charred. Place a burger on each bun and top with condiments of your choice.
Adapted from: www.bbcgoodfood.com