Cucumber Tomato Salad is a classic. It's light, cooling, and so refreshing. This simple recipe is made with sliced cucumbers and juicy tomatoes, enhanced with slivers of onion and a tangy low-fat Italian salad dressing. Try it out today!
Cucumber Salad with Tomatoes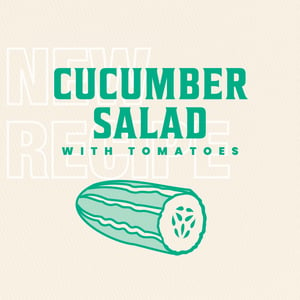 Ingredients:
2 cups cucumber (diced)
1 cup tomato (seeded and diced)
¼ cup sweet onion (chopped)
2 cups couscous or rice (cooked)
2 tsp. dill weed (chopped)
½ cup low-fat Italian salad dressing
Directions:
Combine the cucumbers, tomatoes, onions, couscous (or rice), dill and salad dressing.
Chill for one hour.
Serve.
Nutritional Information (per serving):
Total calories 331
Total fat 1 g
Protein 11 g
Sodium 344 mg
Carbohydrate 68 g
Dietary fiber 5 g
Saturated fat 0 g
Total sugars 5 g
Try out this recipe and let us know what you think!