Try this refreshing Mediterranean-inspired dish with tomatoes and cucumbers and seasoned with mint and parsley. Ready in less than 30 minutes or make the night before for a bolder taste.
Brown Rice Tabbouleh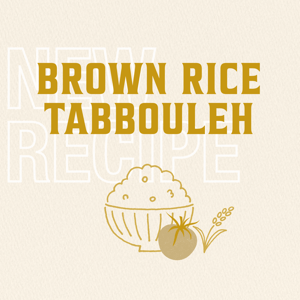 Ingredients:
Makes: 6 servings
3 cups brown rice (cooked)

¾ cup cucumber (chopped)

¾ cup tomato (chopped)

½ cup fresh parsley (chopped)

¼ cup fresh mint leaves (chopped)

¼ cup green onions (sliced)

¼ cup olive oil

¼ cup lemon juice

½ tsp. salt

¼ tsp. black pepper
Directions:
Combine all ingredients in a large bowl.

Toss the mixture well and chill until ready to serve.


Nutritional Information (per serving)
Total calories 200
Total fat 10 g
Protein 3 g
Sodium 200 mg
Carbohydrate 26 g
Dietary fiber 2 g
Saturated fat 2 g
Total sugars 1 g
*Source: MyPlate
Try out this recipe and let us know what you think!