We love using our crock pots all year round. Throw in your ingredients, let the crock pot work it's magic, and you'll come home to a delicious meal. Dust off your crock pot and make Chicken Tacos tonight!
What you need: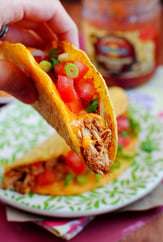 2 lbs. chicken breast (about 4 large, or 5 medium) cut in half
1 packet of taco seasoning
16 oz. jar salsa
Taco shells
Chopped tomato, lettuce, green onion, cheese, black olives, etc.
What to do:
Lay chicken breast in bottom of crock pot.
Sprinkle with taco seasoning and pour in salsa.
Cook on low for 4-5 hours.
Shred chicken with fork.
Add chicken to taco shells, top with cheese and veggies.
Enjoy!
Chicken tacos make a great meal for your family or next dinner party. Serve with your favorite salad or fruit bowl for an extra dose of nutrition!