Are you looking for a tasty new dinner idea? Look no further than this fall spaghetti squash recipe! With tomatoes, basil, and parmesan this dish is sure to be a hit this fall season and one you'll want to make over and over again.
Spaghetti Squash with Tomatoes, Basil, & Parmesan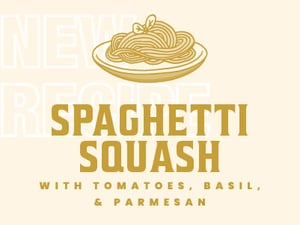 Ingredients:
1 spaghetti squash (about 24 oz., halved, seeded)
1 Tbsp. olive oil
3 Tbsp. Parmesan cheese
1/2 Tsp. dried oregano
2 tsp. dried basil (or 1/2 cup fresh basil, chopped)
1 cup cherry tomatoes (thinly sliced)
Salt and pepper to taste
Directions:
Place the two spaghetti squash halves, cut-side down, in a glass baking dish. Add about ¼ cup of water to the dish and cover it with plastic wrap.
Microwave the dish on high for 12 minutes, or until the squash is soft when pressed. Let it stand (still covered) for three minutes.
In a large bowl, whisk the oil, basil, oregano and 2 Tbsp. Parmesan cheese together. Stir in the tomatoes and season the mixture lightly with salt and pepper to taste.
Scrape the squash out with a fork and add strands to the tomato mixture, tossing until combined.
Sprinkle the combined mixture with the remaining Parmesan cheese and serve.
Nutritional Information (per serving)
Total calories: 77
Total fat: 5 g
Protein: 2 g
Sodium: 67 mg
Carbohydrate: 7 g
Dietary fiber: 2 g
Saturated fat: 1 g
Total sugars: 3 g
Try out this recipe and let us know what you think!