Snacking can be an important part of a healthy diet. Healthy snacks can provide midday energy boosts and can help decrease your hunger and the odds of overeating at mealtime. Check out the May 2018 Live Well, Work Well newsletter for 5 simple snacks to add to your day.


Also in this month's newsletter: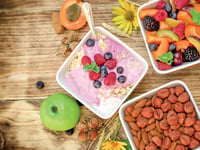 Spring Allergy Alleviation
May is Food Allergy Action Month
Barley Pilaf recipe
Get your copy of the MayLive Well Work Well Newsletter now.

View the Spanish Version of the May Newsletter here.