Are you in need of a quick and delicious side dish? Look no further! Whip up this delightful combination of spinach, tofu, and toasted sesame seeds in just a matter of minutes. Try it out today!
Leafy Tofu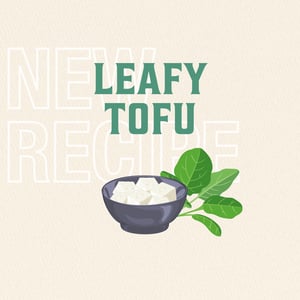 Ingredients:
1 package of tofu

1 Tbsp. oil

4 cups fresh spinach

2 Tbsp. reduced-sodium soy sauce

1 tsp. toasted sesame seeds
Directions:
Drain the tofu. Dice it into 1-inch cubes.

Tear the spinach into bite-sized pieces.

In a large pan, heat the oil and saute the tofu cubes for a few minutes. Move the tofu to the center of the pan.

Add the spinach and soy sauce. Mix.

Cover the pan and cook until the spinach is wilted.

Sprinkle on the sesame seeds.
Nutritional Information (per serving):
Total calories 77
Total fat 5 g
Protein 7 g
Sodium 216 mg
Carbohydrate 2 g
Dietary fiber 1 g
Saturated fat 1 g
Total sugars 1 g
Try out this recipe and let us know what you think!