Your slow cooker can be used for any meal, any time of day. This pumpkin oatmeal is easy and delicious. It's sure to be a hit with your family this holiday season. Recipe below!
Ingredients: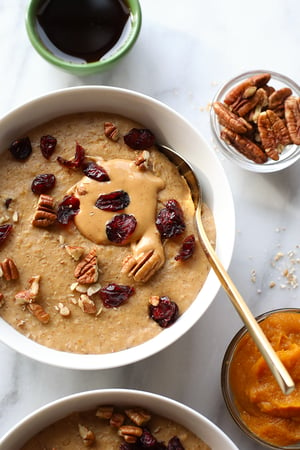 1 cup rolled or steel cut oats
3 cups almond milk, unsweetened
1.5 teaspoons pumpkin spice
1/2 cup pumpkin puree
2 tablespoons maple syrup
1/4 cup crasins
Optional: chopped nuts for topping
Instructions:
1. Place all ingredients in slow cooker and mix well.
2. Cook on high for 2-4 hours.
3. Top with chopped nuts and enjoy!
If you're looking for more on-the-go breakfast ideas, check out this recipe for a Berry Bliss Breakfast Smoothie. It goes together fast and the fruit and spinach will help boost your immune system during cold and flu season.
Or, if it's the sweet-tooth craving you've got, this Banana Ice Cream recipe is just for you. Enjoy!
source: https://fitfoodiefinds.com/