These easy salmon patties make a perfect midweek meal, with the help of canned salmon. Celery, green pepper, onion, and lemon juice are mixed in to add bright pops of flavor. Try it out today!
Salmon Patties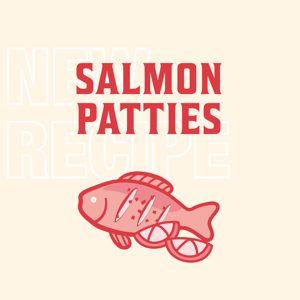 Ingredients:
16 oz. Can Salmon
1 Tbsp. Lemon Juice
Cold Water
1/4 Cup Celery (minced)
1 Tbsp. Green Pepper (minced)
1/2 of a Medium Onion (minced)
2 Large Eggs
1/3 Cup Breadcrumbs
2 Tbsp. All-Purpose Flour
1/3 Tsp. Ground Black Pepper
1 Tbsp. Vegetable Oil
Directions:
Open the can of salmon, and drain the liquid into a liquid measuring cup. Add lemon juice and cold water to the salmon liquid to make ½ cup liquid total, and set aside.

Put the salmon in a separate mixing bowl. Mix in the celery, green pepper and onion.

In another small bowl, beat the eggs. Then, add them to the salmon mixture.

Add the breadcrumbs, flour, black pepper and the salmon liquid mixture to the salmon mixture, and stir until all ingredients are mixed.

Use ⅓ cup measuring cup to measure the salmon mixture. Shape into a ½-inch thick patty and place on a plate. Repeat to make six patties.

Heat the oil in a skillet over medium heat, then add patties. Cook in batches if needed.

Cook for 2 to 3 minutes (or until golden brown) on each side.

Remove patties from the skillet, and place them on a clean paper towel-lined plate to drain.




Nutritional Information (per serving)
Total calories 138
Total fat 1 g
Protein 4 g
Sodium 177 mg
Carbohydrate 29 g
Dietary fiber 5 g
Saturated fat 0 g
Total sugars 4 g
Try out this recipe and let us know what you think!